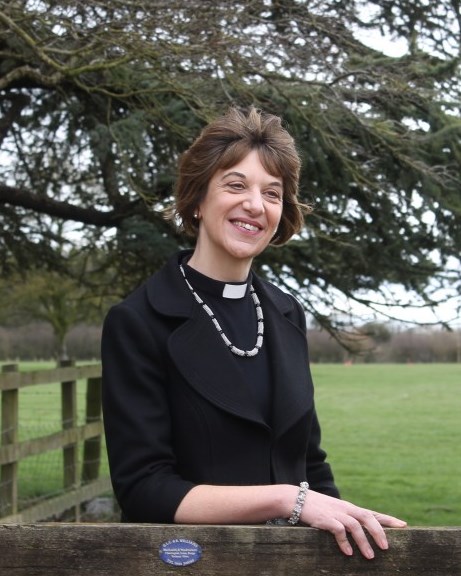 the 2016 lecture
Tuesday 25 October 2016 from 7.00 pm to 8.30 pm
Venue: Lecture Theatre, Eden Building, Liverpool Hope University, Hope Park, Taggart Avenue, Liverpool L16 9JD
Tickets are free and can be booked here from 7 July 2016.

Bishop Rachel took up her post as the 41st Bishop of Gloucester in September 2015, having previously served as Archdeacon of Hackney for 4 years and Archdeacon of Northolt for 5 years.
She was educated at Broxbourne School and went on to train as a Speech & Language Therapist at Reading University where she gained a BA in Linguistics and Language Pathology. Following graduation Bishop Rachel worked as a Paediatric Speech & Language Therapist within the NHS and served on the Child Development Team at the Royal Free Hospital before becoming the Clinical Manager for Paediatric Speech & Language Therapists in Health Centres across three north London health authorities.
She trained for ordination at Wycliffe Hall where she received a BTh from Oxford University. She was ordained in 1994 to serve her Curacy at St George & All Saints, Tufnell Park. In 1999 and she was instituted as Vicar of St James the Less, Bethnal Green.
Whilst working in the NHS she became interested in Family Dynamics. She began studying Family Systems and completed the first stage of training at the Institute of Family Therapy soon after she was ordained. In 2014 she consolidated this with a Diploma in Group Facilitation & Conflict Resolution. Bishop Rachel's interest in Systems Theory continues to affect her perspective on the functioning of a parish, the wider church, and the world in which the church is immersed. This has led to an ever-increasing interest in conflict transformation and since 2011 she has been a Member of Bridge Builders' Council of Reference.
A placement in South Africa in 1994 was a significant landmark and Bishop Rachel remains deeply committed to the Church on Southern Africa. The Diocese of Gloucester is twinned with Western Tanzania, and in her last job was Chair of the Diocese of London's Angola-Mozambique Strategy Group.
She has been a member of General Synod since 2010 and was a member of the House of Bishops Working Group on Human Sexuality. Following her election and consecration as Bishop of Gloucester, she was introduced to parliament in October 2015 so joining the Lords Spiritual there.
Bishop Rachel is married to Guy, who was a vicar in the City of London until their move to Gloucester. Together they enjoy walking and canoeing. She loves silence and describes her 30 day Retreat in 1998 as a life-changing experience.
---
A transcript of the lecture is available for download. A video of the lecture is also available.