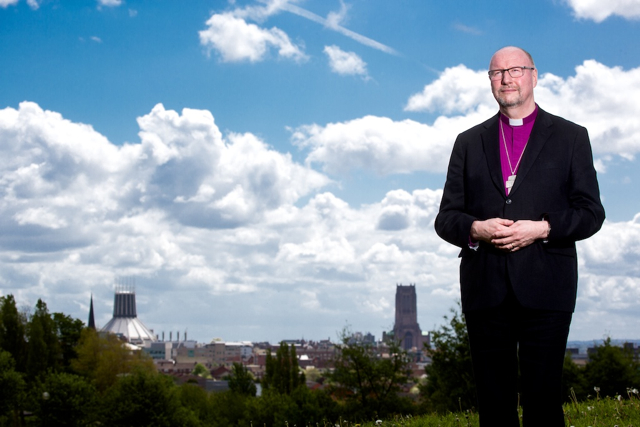 the 2015 lecture
Wednesday 18 November 2015 from 7.00 pm to 8.30 pm
Venue: Lecture Theatre, Eden Building, Liverpool Hope University, Hope Park, Taggart Avenue, Liverpool L16 9JD

The 2015 Archbishop Blanch Lecture, The heartbeats of ecumenism: blood, sweat and tears, was delivered by the Rt Revd Paul Bayes, the Bishop of Liverpool.
Bishop Paul comes from Bradford, West Yorkshire. A churchwarden's son, his spiritual and social life in the late 1950s and 1960s was formed by Sunday school, church choir and youth group. Like many teenagers he decided in 1968 that all this was a waste of time, and in his University years he left the Christian faith behind and investigated a whole range of other spiritual and political options before re-encountering Jesus Christ as a living person, and committing himself to serve God within the ministry of the Church. Ordained in 1979, Paul served as a curate in Whitley Bay, Tyneside, before moving to London as a University chaplain. After five years in London Paul and his wife Kate moved to High Wycombe, a multicultural town north of London, where Paul ministered as Team Vicar and then Team Rector.
In 1995 the family moved to Totton, on the edge of Southampton, where Paul served as Team Rector. After almost ten years in Totton, and twenty-five years in pastoral ministry, Paul moved to work for the Archbishop's Council in London as the Church of England's National Mission and Evangelism advisor. Alongside this work on the emerging church, Paul was involved in resourcing traditional church life through the national Weddings Project and through evangelistic initiatives such as Back to Church Sunday.
In 2010 Paul was invited to move to St Albans Diocese as Bishop of Hertford. In 2014, it was announced that Paul would become the 8th Bishop of Liverpool and he was installed as Bishop in Liverpool Cathedral on 15th November.
A transcript of the lecture is available for download. A video of the lecture is also available.